1285 Sliding Gate (300 Ft)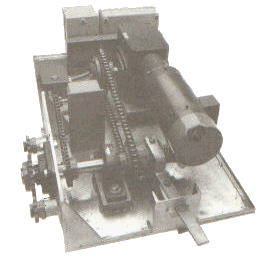 Shown with weather resistant cover removed

The #1285 Aut-o-doR industrial electric gate operator is designed to efficiently operate gates ranging from 40 up to 300 feet (1219cm to 9144cm) wide. [For openings under 40'-0" wide - see Number 1295 operator].
The operator is mounted on a heavy steel base supported by two upright I-beams. (I-beams of embedded type are optional items).
The unit comes with motor, brake and limit switch pre-wired into a terminal box located on the base plate. In the event of a power failure the operator is equipped with an emergency release that can be operated without removing the cover. A padlock arrangement is provided for locking the release in either the engaged or disengaged position. For ease of maintenance, the cover (at ground level) may be easily removed leaving the operator fully exposed.
The sliding gate is operated by a single heavy duty roller chain which runs through an idler sprocket on the operator unit. The roller chain is fastened to each end of the horizontal gate. When the control station actuates the driving unit, the teeth of the driving sprocket engaged the roller chain, causing the chain to move, thus operating the gate in the direction desired. The driving unit consists of an instantly reversing motor with a built-in speed reducer, built-in magnetic brake, drive sprocket, safety friction clutch, limit switches, emergency release and weather resistant cover.
A reversing starter (NEMA #4-water tight) with overload and underload protection is provided.
---
Documents & Downloads