946 Super-Wood Door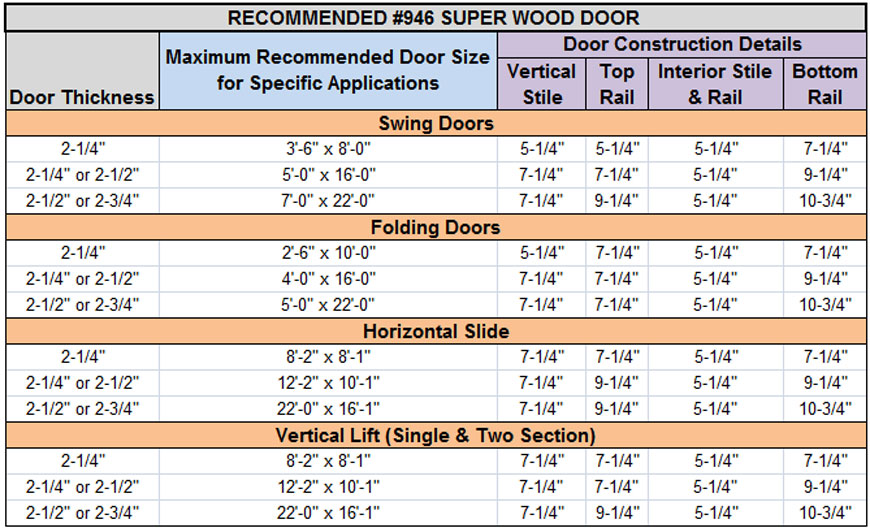 An all wood door suitable for both commercial and industrial applications. Doors are constructed of clear grade tongue and groove strips fit into a sturdy clear grade wood rail and stile frame. Each door is thoroughly treated with a clear satin indoor/outdoor urethane coating to reduce moisture penetration and extend the longevity of the door. This treatment, combined with the staggering screw pattern helps to prevent excessive shrinking and swelling common to most solid wood doors.
Standard wood species used is Vertical Grain Douglas Fir Grade C or better (kiln dried to 12% to 15% moisture content. Other wood species can be specified.
Door Construction: All joints of the frame work are made by machining a mortise and tenon on the joining members then gluing and screwing to form a solid joint. The infill paneling shall be laminated together by gluing and screwing the tongue and groove strips. The screws shall be 3-1/4" long and extend through one and one half strips. Screw spacing shall be no further apart than 9" and arranged in a staggered pattern. The stiles and rails of the door are to be grooved to receive the laminated panel with a 1/4" clearance around the panel for swelling. Caulking shall be applied along the perimeter for the panel before the panel molding is applied.
For doors that are glazed (windows), muntin bars are follows:
> Doors up to 10'-0" tall and 2-1/2" thick: muntin bars are 1-1/8" wide x door thickness.
> Doors OVER 10'-0" tall; muntin bars are 1-1/2" wide x door thickness.