1295 (40 ft Gate)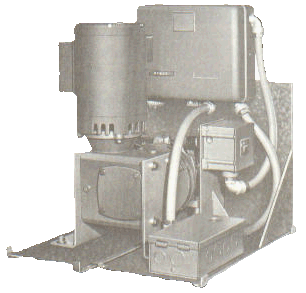 Shown with weather resistant cover removed

The #1295 Aut-o-doR electric gate operator is ruggedly constructed and designed especially to take year-after-year hard use and heavy traffic in all types of weather. Designed for openings up to a maximum width of 40 feet. [For openings over 40'-0" wide - see Number 1285 operator].
No. 1295 is for use with #10 (800 lb capacity) or #25 (up to 5,000 lb capacity) box track style hardware. or cantilever sliding gates (2,500 lb capacity)...and is easily adapted to any make of gate. The unit comes completely wired ready to connect to both power source and controls. In the event of a power failure, the operator is equipped with an emergency release that can be operated without removing the cover. A padlock arrangement is also provided for locking the release in either the engaged or disengaged position.
The operator is mounted on a heavy steel base supported by an upright I-Beam. Mounting posts are optional items (available in embedded or pad mounted type).
For ease of maintenance, the cover (at ground level) may be easily removed leaving the operator fully exposed.
The gate should have a 2'-3"(69cm) minimum lap at the back jamb; however, an extension bracket can be supplied at additional cost where a lap is available.
The single horizontal heavy duty roller chain is mounted to each end of the gate, acting as a gear rack to the sprocket of the operator. The operator is mounted to an upright I-beam, which is an optional extra cost item. The sprocket is connected to the heavy duty driving unit with a safety friction disc clutch.
The driving unit, consisting of an instantly reversible motor with built-in speed reducer, magnetic brake, drive sprocket, safety friction disc clutch, limit switch, emergency release, and reversing starter with overload and underload protection, is mounted on a heavy steel base protected by a weather resistant cover with padlock attachment.

---